Life & Executive coach for creative people with busy minds.
Stop the self-sabotage. Unleash your full potential.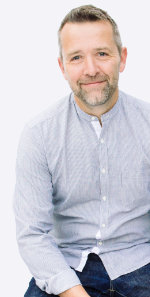 Pause for a second.

What can you hear? Not outside. Forget the birdsong or the traffic.
What can you hear echoing In your head?
Is it "what if", "if only", "I can't", "I'll never", 'what will they think"?
A vicious inner-critic? I mean, who are you to start a business or aim for that promotion?
Thoughts that sabotage your relationships with others at home or at work?
That every idea you have is a bad one?
Or that no-one is listening to you because you have nothing useful to say?
Maybe a nagging whine that you're drifting without purpose?
This voice impacts your emotions and your body. You can feel the tension, can't you?

It controls you. It holds you back. It doesn't let you grow.
Crap, isn't it?
(Boffins say 80% of our daily thoughts are negative. So it's not just you.)
Does it always have to be this way?
Well, no!
The thing is, most of it is BS. Based on your false interpretation of what's happening. Not on the reality.
How about ending the cycle of self-sabotage keeping you stuck?
How about changing your life story for the better?
Does this sound good?
"Adam's been massively influential on me as a coaching client whilst working together throughout 2021. He's a hugely talented coach who has a knack for asking the right questions that make you think, reflect, assess, analyse and break down some of those walls you've put up in your own mind for years. I feel like this ultimately has led to a quieter mind and a more balanced me (both professionally and personally). His knowledge of the Marketing, Media and Advertising space isn't something I looked for in a coach, but the relevance of his experience makes for much more meaningful conversations knowing he's got the background of the examples we're talking through. I'd recommend Adam to any of my colleagues or friends."
"I started a coaching programme with Adam in the summer of 2019. I had just started a new job and was not enjoying it at all. Adam helped me work through my pain points of the new job and how I would tackle my next steps to enable me to feel more confident to remove myself from the situation I was in. During this time lots of other life situations happened and Adam helped me work through these to feel more in control of my actions and to make informed decisions. Starting a coaching programme with Adam was one of the best things I could have done; especially as I felt so out of control at the time. Going through this experience and having Adam in my corner enabled me to feel more in control of my life and not let the situations around me control me. Thank you, Adam, for creating a programme that helped me during a really difficult time in my life."
"Adam creates such a warm and productive coaching space, I loved working with him. He seemed to instinctively know the right question to ask to get my synapses pinging! I came away from every session with fresh perspectives, energy and focus, allowing me to move forward in my life and work with renewed confidence."
"I will never forget my sessions with Adam. His knowledge, patience, and empathy gave me the confidence and motivation I needed to get through one of the most challenging times of my life: setting up my dream business while doing a 9 to 5 (sometimes 7 to 11) to pay the rent. I especially liked how he always supported me but felt he could challenge the way I saw things, which helped me reframe my beliefs when I felt unsure. Our sessions have been genuinely transformative."
"Adam was recommended to me and I would highly recommend him to anyone who asked. The patience he has when I am working through tricky areas and enabling me to understand what can be holding me back from taking risks have been incredibly beneficial to me over the last year. His attention to detail when reflecting on what I'm discussing has really given me insight into myself and how I can progress my career desires."